Our Pillows
High quality &
supportive
When choosing pillows, the weight of one's own head and one's preferred sleeping position should be considered. In addition, the feather content of the filling is particularly crucial here. While the main task of down duvets is to generate consistent and lasting warmth, pillows need to be able to support the weight of the head – 5 to 8 kg in adults depending on age and physique. A relaxed head and neck position is ensured by strong feathers in the appropriate filling density.
Filling quality and support force
The quality of the filling material is determined primarily by the material properties of the feathers used, which, in turn, are determined by the resilience in the quill. The percentage of down in a pillow varies and should be selected depending on the desired degree of hardness and the required support force.
In Europe, there are around 40 different pillow sizes and numerous country-specific varieties. The classic German pillow is 80 x 80 cm. Also very popular are long cushions measuring 40 x 80 cm, as they support the head well and do not trouble the back. Upon request, we will make every a pillow in the desired size.
In addition to standard pillows, we offer special neck support pillows and multi-chamber pillows. The former usually consist of a combination of down, feathers, and a latex or foam core. Due to this material composition, they can largely be used regardless of body shape, size and weight. Multi-chamber pillows are characterized by a highly resilient, shape-retaining feather core and two soft and fluffy down-filled chambers on the surface of the pillow cover.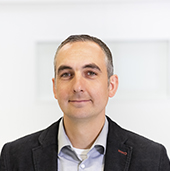 Contact Person
Marco Brüning
You can reach us easily by phone from Mon-Fri 8:00 am to 4:30 pm. We are happy to answer your questions.
T: +49 (0) 2505 9337-19
F: +49 (0) 2505 9337-77
M: m.bruening@otto-keller.de