Down & Feathers
A magical
natural product
Down is a natural product made from the warming protective feathers of water fowl. Thanks to its three-dimensional, elastic structure, down can trap a lot of air, which makes it an enormously powerful storer of heat. Visually, down resembles a fine snowflake, and it is just as light at 1–2 milligrams. About one million pieces of down are required for one kilogram of filling material. The larger the pieces of down, the higher their fill power, i.e. their effectiveness in terms of thermal insulation.
Down and feather plumage give geese and ducks ideal protection against the cold. Many of the good properties of down and feathers that are important outdoors in nature can be transferred to their use in bedrooms at home. For example, they are able to absorb moisture and dissipate it into the ambient air like no other material. Their resilience makes them extremely durable – while ensuring the highest degree of softness and snugness. In addition, down and feathers are easy to clean and can be washed at up to 60°C. On top of that, ours are fundamentally suitable for allergy sufferers (NOMITE) and are ecologically tested (Standard 100 by OEKO-TEX).
Daunen- und Federkleider geben Gänsen und Enten einen idealen Kälteschutz. Viele der guten Eigenschaften von Daunen und Federn, die draußen in der Natur wichtig sind, lassen sich auf ihren Gebrauch in heimischen Schlafzimmern übertragen. Zum Beispiel gelingt es ihnen wie keinem anderen Material, Feuchtigkeit aufzunehmen und in die Raumluft ableiten. Ihre Bauschelastizität macht sie extrem belastbar – bei höchster Weichheit und Anschmiegsamkeit. Zudem sind Daunen und Federn pflegeleicht und lassen sich bei bis zu 60 °C waschen. Unsere sind obendrein grundsätzlich für Allergiker geeignet (NOMITE) und ökologisch getestet (Standard 100 by OEKO-TEX).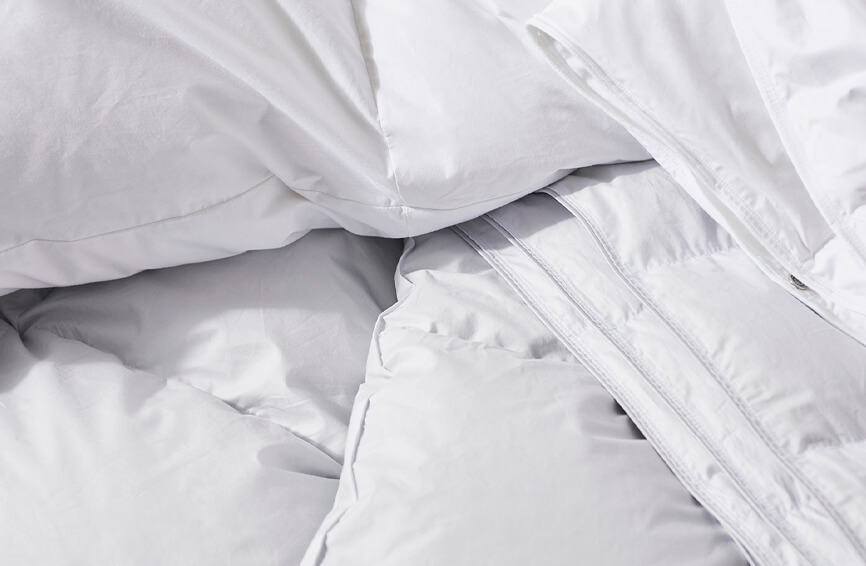 In addition to the fillings, the quality of bedding depends largely on the quality of its covers.
These need to be permeable to air in order to promote the transport of moisture and respiration while they must always be down- and feather-proof. Even the thinnest quills should never pierce through the appropriately woven and processed cotton shell.
In addition, all shells that we produce are guaranteed to be colourfast, washable, resistant to perspiration, friction and light, and tested for the best possible skin compatibility. All our duvet and cushion covers are made of 100% high-quality, long-staple cotton, and fine yet durable yarns.
All bedding products we produce are suitable for house-dust allergy sufferers.
A house-dust allergy is triggered by inhalation of allergens found in secretions from dust mites. Studies from the University of Kiel and Frankfurt and the Wellington School of Medicine in New Zealand show that dust mites are virtually not found in down- and feather-filled bedding. Due to the heat during use and the rapid dissipation of moisture during ventilation, they are not an appropriate habitat for moisture-dependent dust mites.
Our down duvets and pillows also come with very densely woven covers, whose effectiveness as a barrier to mites is confirmed by the independent testing organisation Wessling. All in all, down- and feather-filled bedding – contrary to popular belief – is especially suitable for allergy sufferers and ensures pleasant, absolutely allergy-free sleeping conditions.
For the sake of long-term cosiness and cleanliness, we developed the detergent Dauni.
It is based on 100% sustainable surfactants from wheat, maize and potato starch. Dauni is phosphate-free, pH-neutral, ecologically harmless and does not require optical brighteners.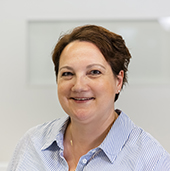 Contact
You can reach us easily by phone from Mon-Fri 8:00 am to 4:30 pm. We are happy to answer your questions.
T: +49 (0) 2505 9337-0
F: +49 (0) 2505 9337-77
M: info@otto-keller.de