For everyone to get exactly the duvet that fits their personal sleeping habits, we offer a wide range of different fillings, shells and stitching. The success of our products is based on many years of manufacturing expertise and selected materials, which ensure that every duvet stays permanently cuddly. A special level of comfort is guaranteed by our soft, fluffy down filling in combination with the optimal filling quantity, high-quality duvet covers, and always the right fit in terms of stitching.
The higher the down percentage, the softer the duvet. The larger the down, the less filling weight is needed to achieve the same level of warmth. With the right filling combination, even very light blankets can be extremely warm and soft.
In Germany, three standard sizes for bed linen have been established: 135×200 cm, 155×220 cm, 200×200 cm. In order to determine the optimal dimensions of your own duvet, you should be guided by your own body and generally err on the side of being generous. As a rule of thumb: length = body height + 20–30cm. Width = body circumference + 30cm.
The softness of a down duvet is essentially determined by its stitching. Which type is right depends on the filling material and filling weight. Different forms of stitching result in different types of duvets. The most popular are baffle-box duvets, sewn-through summer down duvets, box-stitch and ring-stitch down duvets.
The level of warmth of a duvet should be chosen primarily based on the temperature conditions in the bedroom. In general, it is assumed that the optimal bedroom temperature is around 18°C. But of course, in addition to the room temperature, one's own sleeping habits and individual need for warmth are important factors when choosing a duvet.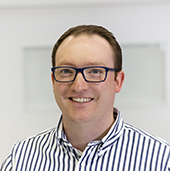 Contact Person
Thomas Reinermann
You can reach us easily by phone from Mon-Fri 8:00 am to 4:30 pm. We are happy to answer your questions.
T: +49 (0) 2505 9337-16
F: +49 (0) 2505 9337-77
M: t.reinermann@otto-keller.de